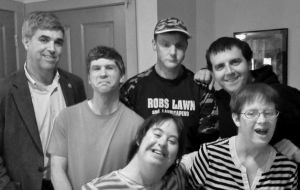 December 2015
Dear Friends,
A Day in the Life . . .
Taking a closer look at our Sunrise Cottage group home for six very deserving residents.
It's 5:00am and the overnight staff is rising from a short rest; as other staff arrive to assist residents with their morning routine. The early hustle and bustle is typical of any home that requires follow through on multiple tasks to accommodate hectic
individual schedules.
One resident: Arise at 6:30am, dress, breakfast with assistance, medication, travel out of town to attend day programs, return to Cottage, medications and shower, dinner, local outing for evening activities including art class, jewelry making or drama, return to Cottage, medications, quiet time and lights out at 10:30pm. The daily activities
change by the season, with even more weekend activities.
And the other five residents? They too are heading out to jobs and activities; all with various levels of support from a very dedicated Cottage staff. Sometimes a small reward is in order for good behavior, just to keep them on track and on schedule. Each resident has structure and well planned goals incorporated into their daily routine in areas of diet, health, life skills and safety. Their lives are rich and fulfilling. The Cottage offers its residents a safe comfortable home environment, conveniently located in a neighborhood setting, close to families, friends and places of employment. A group home presents many operating challenges. Foremost is to ensure the residents a safe environment while facilitating a full and rewarding lifestyle – of equal challenge is the need to fundraise to sustain our operations. While the Cottage is generously supported by caring citizens, local businesses, private foundations and public agencies, we must continuously appeal as the financial needs of the Cottage continue to escalate, while fiscal pressures severely strain our public agency subsidies and threaten to diminish the quality of our mission. To meet our expenses, we rely on the backing of individuals – we hope you will consider donating to our annual appeal to help ensure our residents maintain the daily routines that enrich their lives and their home environment.
On behalf of the Sunrise Cottage Board of Directors, our residents, their families, and our Cottage management partner ARI of CT, we thank you for considering the Cottage worthy of your support, and we wish you a very Happy and Healthy Holiday Season!
Gratefully,


John Loehr
President
P.S. Please send your tax-deductible contribution and join a community that continues
to "give back".