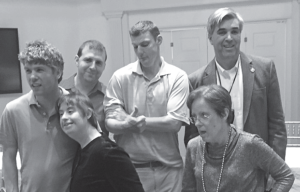 Dear Friends,
Over the past 12 years, the residents of Ridgefield Sunrise Cottage have been making friends and building memories at the place they call "home."
The friends are the loyal supporters of the Cottage where six developmentally disabled residents live close to their families and are actively connected to the Ridgefield community they have grown to know and love. The memories come from the many programs that enrich our residents with rewarding social activities, employment, and life skills training. Generous private donations and public grants funded the Cottage construction
Generous private donations and public grants funded the Cottage construction in 2004. In recent years, declining government subsidies resulting from the fiscal crisis forced the Cottage to increasingly depend upon annual fundraising appeals to close the operating deficit, and maintain an effective level of residential programs and support.
In the face of rapidly increasing need for additional group housing solutions for the developmentally disabled – the State of Connecticut's waiting list alone exceeds one thousand beds – only emergency situations are being addressed. Sunrise Cottage has explored several options to open a second group home – however considerable additional support from caring citizens, local businesses, private foundations and public agencies will be required to help underwrite the initiative.
This is an urgent request to ask for your continued support. We rely heavily on our private donors and hope you will "act now" and consider a donation to our Appeal so that we might expand our resident base and make new friends and memories in a Cottage-like setting.
On behalf of my Board colleagues, our grateful residents and their families, and our professional management partner ARI of CT, we thank you for considering the Cottage worthy of your continued support and wish you a very Happy Holiday Season!
Respectfully,

John Loehr
P. S. Please send your tax-deductible contribution and join a community that continues to "give back."